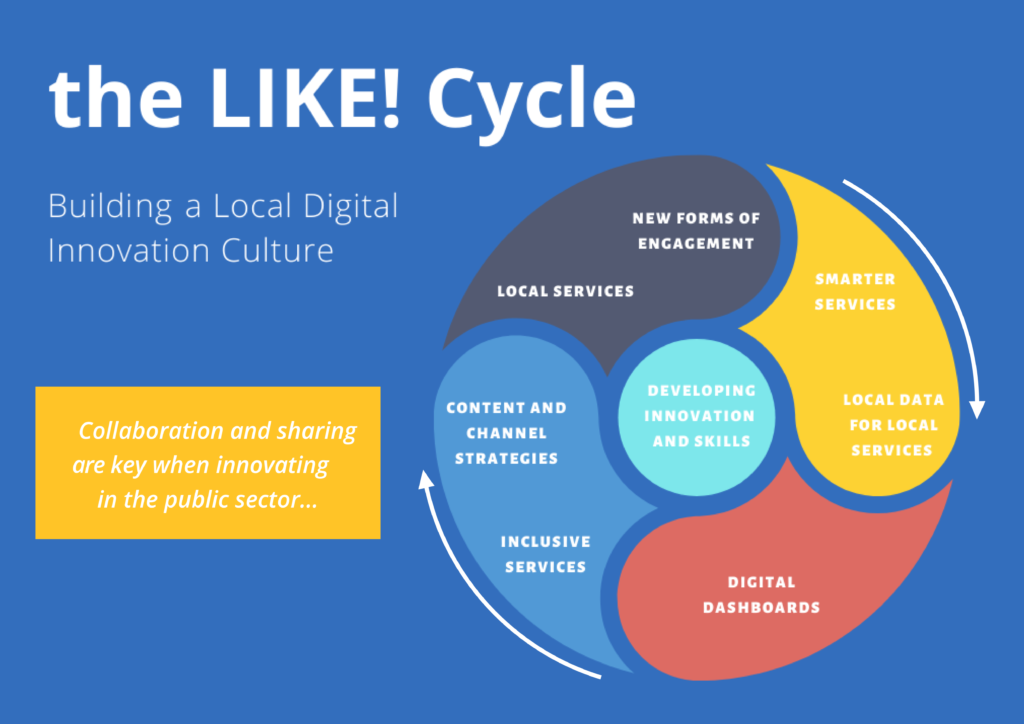 The LIKE project has developed a novel approach to creating digital innovation culture – the 'LIKE Cycle'. The LIKE Cycle is an iterative process that builds on efforts to increase innovation capacity by providing both a pathways to implement new skills and a roadmap to further develop and innovate that builds on these new skills and increases in innovation capacity.
The LIKE Cycle approach
The LIKE! cycle approach is an iterative approach to capacity development that supports an organisation's ability to innovate and to deliver service improvements. Each step enables the next, and staff/organisations can begin at the appropriate part of the cycle for their skills and experience.
You can start at any point of the LIFE Cycle.
The LIKE cycle tool is flexible enough to be used by individuals, by teams and by larger groups. As capacity develops individuals, teams and organisations can repeatedly go through the cycle as they iterate through the development of more innovative and more mature services.
Why we need to develop an 'innovation culture'
The accelerating use of digital technologies in public service delivery has created a number of practical barriers and skills gaps that can hamper both the delivery and the take-up of innovative services from local governments.
By concentrating on supporting organisational change, the digital innovation culture approach develops an organisations or network's capacity to develop and deliver innovative services. (You can read more about Like!'s work on developing innovation capacity in the Like case study on 'Building a local Innovation Culture'.)
Public services are trying desperately to digitise and to move their services online. But when doing this, it's important to keep two groups in mind: the users of new digital services, and the staff who will need to deliver these new services.
If we ignore the needs of either of these groups, we run a significant risk of failure. If staff aren't ready to deliver the new types of services in the ways that the public wants, organisations will not meet expectations. Similarly, if the public or the target audience isn't ready for new digital services, then they will not use them.
Working through the LIKE Cycle
The LIKE cycle is an iterative, responsive approach to identifying and addressing capacity issues in governments and in e-service delivery. Start at the most obvious point for you or your organisation and move clockwise through the cycle.
1. New forms of engagement
Digital technology and service delivery bring new opportunities to engage citizens – but it's also important to address inclusion and to identify new way to use digital tools to tap into local communities, to get their feedback on issues, and to effectively communicate with local people.
Local services
Organisations increasingly need to pivot to focus on how to develop services which respond to the needs of local communities and to support 'hyper-local' service provision. Examples of this include local service and environmental improvements, and local/locality budgeting. New technologies such as IoT can be used to provide information about neighbourhoods and streets and to support more targeted and more effective service delivery. Local services work needs to be built around real engagement between communities, governments and SMEs, in order to develop new approaches to enable greater local control of services.
2. Smarter services
People expect the services they use to both digital and innovative – and this is true for public services as well. A failure to meet these expectations inevitably leads to dissatisfaction with public service delivery. Organisations need to develop new ways of working with citizens and service users to use data and information to complement efforts to co-design better services.
Data is the lynchpin that stitches the customer journey together – it's often the only signal we receive from service users. We must learn to learn from these signals, in order to understand a user's emotional and functional needs. At the same time, we need to transform this data into meaningful insights that we can use to understand service use, and to forecast service demand.
Local Data for local services
LIKE!'s Local services work has shown how to develop services which respond to the needs of local communities and support hyper-local service provision. These include pilots on local improvement and local budgeting. They also looked at how new technologies can be applied to hyper-local environments such as streets and neighbourhoods. Local services pilots are built around local engagement between communities, governments and SMEs to develop new approaches to enable greater local control of services.
You can read more about Like!'s work on smarter services in the Like case studies on 'Smarter Services' and 'digital DNA'.
3. Data and digital dashboards
Cities and communities need to develop new ways to use data to understand citizens and service demand. This enables organisations to design and deliver better services, and to help managers and politicians and stakeholders to use data to help make better policy decisions for communities.
You can read more about Like!'s work on digital dashboards in the case study on 'Creating Digital DNA for Cities and Neighbourhoods'.
4. Content and channel strategies
Channel and content strategies are not a "one size fits all" approach. Different services will need to be delivered using a range of different channels, according to the needs and expectations of the citizens who use the services. This means that many services will have their own unique channel and content strategies that are specific and targeted to their users and their particular needs and requirements.
Organisations often struggle with 'channel shift' – as they are often not driving change but responding to changes in demand or regulation. To successfully manage the movement of services between channels and across channels organisations need to regularly review all of their delivery channels – including their platform approaches, websites, apps, and social media.
You can read more about Like!'s work on content and channel strategies in the Like case study on 'Smarter Services'.
Inclusive services
In order to be as inclusive as possible with public service delivery, we need to cater to the widest possible range of social groups; children, older people, people with physical disabilities, those with mental health issues, those with learning disabilities, etc. Unthinkingly delivering services from a "white, male, able bodied, government employee" is not particularly appropriate or effective.
Conclusion
The LIKE! cycle approach is a flexible, iterative approach to local capacity development. By supporting capacity development to enable innovation, the LIKE cycle has helped organisations across Northern Europe develop staff and services and significantly increase engagement with citizens and levels of customer (and staff) satisfaction.
You can find out more about LIKE at https://northsearegion.eu/like/