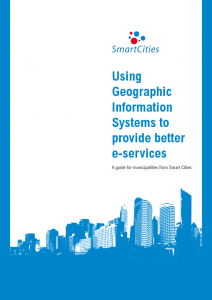 Two trends have influenced the development of geographic information systems (GIS): the first is the increasing use of GIS by business and by governments; the second is the need to use new applications to provide access to standardised geometric and correlated topical data.
Information structures in both business and administration increasingly incorporate GIS components, which requires that geodata is linked with other types of spatial information so that they can be integrated into geographic information systems.
During the Smart Cities Project we examined the geobased services that were being used by the project's six municipal partners. This guide provides a detailed review of the systems that are being used by two of these partners – the City of Edinburgh Council in Scotland, and Kristiansand Kommune in Norway – who had the most advanced geobased infrastructures in the Smart Cities partnership.